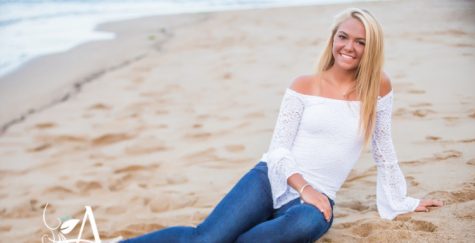 My name is Emily Wood, I am a senior this year at Triton High School. I have lived in Byfield all my life with my mom, dad and two older sisters who went to Triton as well. I went to Newbury Elementary School in Newbury from preschool to sixth grade.
I have been playing soccer since I was 6 years old. I have continued playing the sport for the varsity lady vikes the past 4 years of high school. I also enjoy running mid-distance. I participated in track and field my sophomore year where I ran the 300 and 600 meter dash and ran for the 4x400 relay team occasionally. I qualified for CAL's in the 600 meter dash race in the winter of 2016.
In my free time, I love to play with my dogs and take them on walks and hangout with my friends and family. I am currently a sales associate at the Black Dog store in Newburyport. I love working there because my coworkers are awesome people and we get to pet and play with dogs who come in the store and help customers find exactly what their looking for.
I plan to attend Louisiana State University next fall where I will be majoring in veterinary medicine. I have a strong love for animals and I would like to be able to use my passion to help animals and their owners in my future. I will have to attend graduate school after I receive my bachelors degree which will be four more years of college so I can become a certified veterinary physician.
This year I began writing for the Triton Voice and I really enjoy being a writer for them. It's very interesting to write and research about news events that are going in the world and our community that not many people know about. Journalism is important because students get to have a voice of their own and get to inform our school about what's going on around them.
Emily Wood, Staff Writer
May 14, 2018

Artificial Celebrities

(Story)

Apr 24, 2018

Triton Senior Week

(Story)

Mar 22, 2018

School Administrators will always try to have power over their students… regardless of your rights

(Story)

Feb 08, 2018
Jan 05, 2018

New year, new changes

(Story)

Dec 04, 2017
Nov 29, 2017

Tina takes on the teaching world

(Story)

Nov 09, 2017

Thanking Our Veterans

(Story)

Nov 01, 2017
Oct 25, 2017
Oct 19, 2017

Crossword: Guess that teacher!

(Story)

Oct 04, 2017

Triton Alum Returns to His Roots

(Story)

Sep 28, 2017

Nike and Adidas: Who does it better?

(Story)