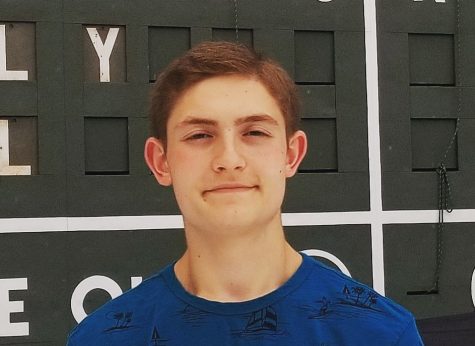 My name is Alex Michals, a senior at Triton High School who's interested at reporting the struggles of the Triton community. When I'm not in school and focusing on journalism I like to go out to eat with my friends, watch movies, and play video games. Over the Summer when school is out I work as a camp counselor at the Rowley YMCA.
Journalism is very important to me. In college, I'm going to pursue a business degree, in which I'll need the ability to report information. Journalism is all about reporting and recording information, then sharing it with others. That's exactly what I'll be doing in the real world with a business management degree. For developing the skills I need for college and life beyond college, journalism is the way to go.
However, I don't take journalism just for the reasons I stated above. Journalism is the most fun I've ever had in an English class. Interviewing and feeling like your paper is worth something are two things I'm going to remember for the rest of my life. Even with all the writing that comes with Journalism, I still don't get tired of it.
When you take away all the seriousness surrounding me, I'm a pretty simple guy. I like my wings hot and spicy with a Patriots game on Sunday.
Alexander Michals, Staff Writer
May 15, 2019
May 08, 2019

Small Money Can Get Big Vacations

(Story/Media)

May 07, 2019

News Briefs May 8

(Story)

Apr 25, 2019
Apr 10, 2019
Apr 04, 2019
Apr 02, 2019

A Difference of Opinions

(Story)

Mar 30, 2019

Bathroom buddies required

(Story)

Mar 27, 2019
Mar 22, 2019
Mar 21, 2019
Mar 22, 2019

Back to Bacon and the Paleolithic Period: A Manly Diet

(Story)

Mar 08, 2019
Mar 01, 2019
Mar 01, 2019

News Briefs 2/28/2019

(Story)

Feb 14, 2019

News Briefs 2/13/2019

(Story)

Feb 07, 2019

News Briefs Week 2

(Story)

Feb 03, 2019

Triton News Briefs for Feb. 3, 2019

(Story)

Jan 25, 2019

A Declaration Of War

(Story)

Jan 09, 2019

The Tax Cuts That Can Do More Harm Than Good

(Story/Media)

Nov 26, 2018

The Planet Of College Tuition

(Story/Media)

Nov 09, 2018

Triton's Community Gamblers

(Story/Media)

Nov 19, 2018

New Teachers Move into Middle School

(Story)