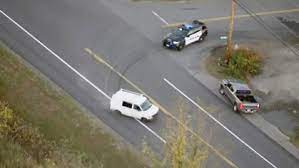 One second Triton junior Colin Pearson was studying in his house. The next second, the loud sound of a fast driving car and blaring sirens filled his ears. "He was going crazy fast," he said.  This experience was true for many Salisbury residents. On Monday, November first, A suspected robber was being chased down by the police.
Brandon Simmons has a history of suspected robberies and threatened the CVS on Pond Street, Newburyport with a bomb. On Monday, he crashed his car while attempting to evade police. He escaped on foot before being arrested in a Peabody motel. Many Triton students saw Simmons in Newburyport and Salisbury.
At approximately 2 pm on Saturday October 30th, Simmons entered the CVS, located on Pond Street, and went towards the pharmacy in the back end of the store. He handed the pharmacist a note claiming that he had a bomb, and demanded that they give him prescription drugs. He fled the scene in a pickup truck.
Around 10 am Monday morning, he robbed the Bangor Savings Bank in York, Maine. He showed a weapon before leaving with an unknown amount of money. He proceeded to head back to the Newburyport area.
A Salisbury police officer identified Brandon Simmons and the white van that he was driving at about 4:50 pm, Monday, November first. Simmons punched the officer before driving off. Salisbury police then began to pursue him. Salisbury police were only involved in the chase for 20 minutes before being ordered to terminate it for public safety reasons. 
Many Salisbury residents reported spotting a white van flying down the road. Junior Colin Webber mentioned getting cut off by him on his way home from Hampton Beach, "As soon as I saw the text (from his friend about Simmons), a van going 80 in a 25 flew in front of incoming traffic… probably like 15ft in front of me."  
Eventually, the white van crashed into another vehicle at the intersection of Elm Street and Gardner Street in Salisbury. The man proceeded to run away on foot. 
That night, State Police searched for him using K-9s and helicopters. Even in Rowley, Junior Emma Morland reported seeing two helicopters flying over her house. Caitlin Frary shared that her street got shut down during the search. 
Many people in Salisbury spent the night in fear of a run in with the criminal. Senior Garret Lee said, "that whole night everyone was antsy."
Simmons wasn't found in Salisbury, but in Peabody. On Wednesday, November second, he was caught in the lobby of a hotel. He was arraigned at the Newburyport District Court on a very long list of charges related to the two robberies, the police chase, and the assaults on police officers.