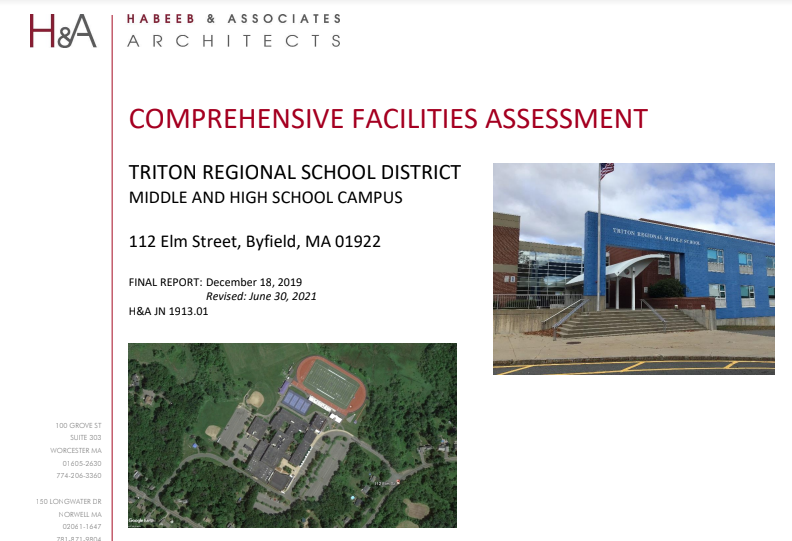 A Building Need
How to Fund $61 Million in Needed Repairs Now in Select Boards' Hands.
The next step towards fixing Triton's aging Middle and High School building is in the hands of each of its member town's select boards. The School Committee has asked selectmen in Newbury, Rowley, and Salisbury to decide by November 18 which method they would prefer to fund repairs and renovations.
"What we're asking the town is whether they want to do all of these repairs over time, and largely at their own expense because the state wouldn't help, or submit a proposal to the state that might get their support and pay 50+% of the total cost of a project," Triton Superintendent Forget wrote in a statement to the Triton Voice.
If the towns opt to send in a proposal to the state, school committee would first submit a statement of interest by April, 2022 to the Massachusetts School Building Authority, which funds large-scale school building projects. The school would hear back by December, 2022, then have nine months to commit funding for a feasibility study — an examination that would look at renovation, rebuilding, building at a different site, and other possibilities and considerations. That study would cost in the ballpark of $1 million, according to Forget. When the study is complete, a proposal would be forwarded to the towns to discuss and approve. Forget said that the final decision process would likely not take place until at least 2024.
What is it that these buildings need repaired or replaced? Three reporters from the Triton Voice examined a recent report on the middle and high school's building needs. In the following stories, we break down what is needed in terms of the schools' interior, roof, and grounds.