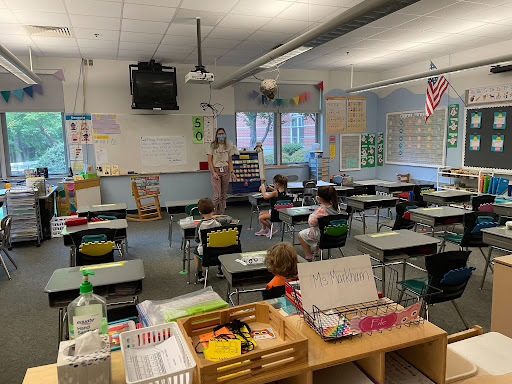 Channing Marengi
Crayons, markers and tiny dolls fill the room. Mini chairs and desks are equally spread apart from each other. The small desks face an easel that is lined with apple shaped cut outs with tiny numbers to depict a calendar. 
Emillee Markham has started her first year here in the Triton District  as the new Kindergarten teacher at Salisbury Elementary. Her room is set up in beautiful subtle colors as she takes on her second year as a kindergarten teacher. 
As two high school seniors, spending a morning back in kindergarten with Markham was a blast from the past. In an interview with Ms. Markham, she discussed how this adjustment to a new school has been for these first few weeks. Recently, school during these times has been hard for kids and teachers to adapt to. She has been handling it well as kids and teachers have nothing but positive things to report. 
Markham graduated from Curry College in 2019 to start her dream job as a teacher. Last year she taught at Swampscott Elementary and this year is her first year in the Triton District. Markham says she decided to switch schools because of all the positive things she has heard about Triton's school system. 
Growing up, Markham got her spark for teaching because of the influence of the teachers she had growing up. She feels this year is going well for her and her students and she hopes to continue to pass on her love for teaching to these little ones. She expresses that she wants to provide a fun environment so they want to go to school every day and learn. 
With COVID-19 learning for these kids has been nothing but a routine for the little ones as this is what they only know. It is drilled into their brain that they have to wear the masks. Markham believes she has this system down pat as she includes as many breaks as possible. 
"We do a lot of breaks and one of the things we do is GoNoodle, it is a series of web-based videos, games, and activities focused on introducing short bursts of physical exercise into the classroom", Markham says. 
She has learned from her prior year to not use bright colors because it is distracting for kids. 
Aimee Farrell is Markhams mentor this year and loves the management in the classroom. The class itself works really hard and they are quiet in the hallways and are very respectful. 
 Farrell says, "Some things we have noticed that work for her are the decor in her classroom is very calming, it isn't too flashy and overwhelming for the kids". 
Markham is not in this process alone since she is constantly receiving positive feedback from teachers around her. 
Jane Keeler, who is now the assistant principal, was formally in that room for 17 years. Markham has now taken over. 
Keeler says, "She is a great teacher, a perfect fit for the job". 
For a lot of these kids it is their first year of school. A lot of these kids did not attend preschool and because of the pandemic went to online school so they have to adjust to the school environment. 
 Lorraine Pollard is the assistant in Markham's room and she helps with whatever she needs and is happy to see where this year will go since it's gone great so far.
Pollard says, "The kids have really warmed up to her. Most of our students were home all last year and are adjusting to the classroom.." 
Not only the teachers love her but the kids do too and it shows because they respect her. 
When asking what their favorite thing about Ms. Markham class was one responded with, 
" I love playing with the toys, especially the toy trucks".
Another added, " I like her, she's very pretty".