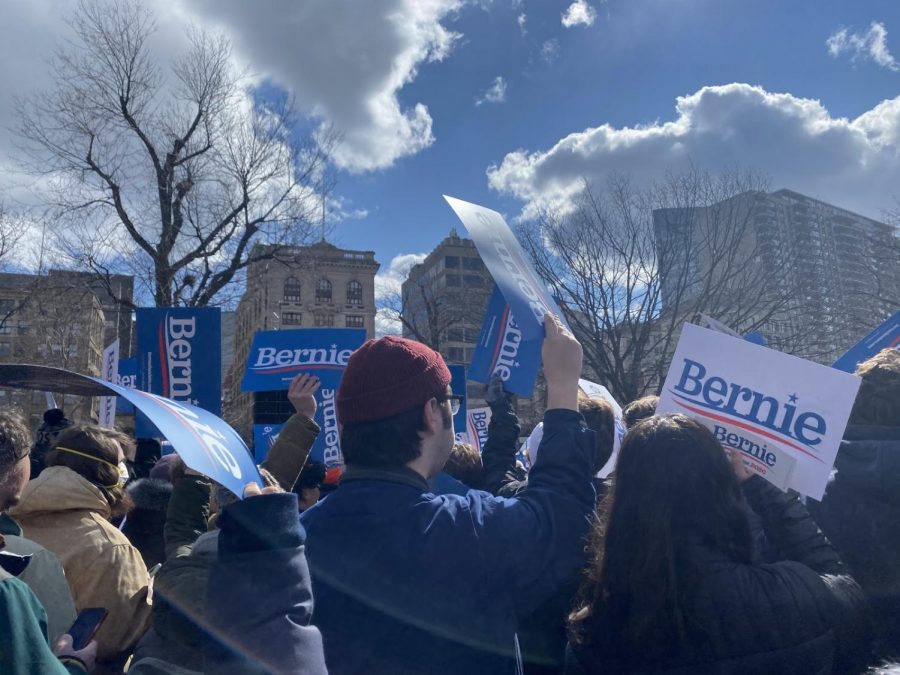 Nick Pagliarulo
"Tonight, we are going to turn on the tv, and they are going to find out that over 10,000 people turned out to the Boston Common for this rally, and they are going to become even more nervous," says Bernie Sanders, Senator of Vermont, and 2020 presedential candidate.
Just days before Super Tuesday, when he won California, Utah, Vermont, and Colorado, presidential candidate Bernie Sanders held a successful rally starting at 12:00 PM, on the Boston Common that had a large turnout. After Super Tuesday, however, Sanders' campaign appears to be slipping against fellow frontrunner and former Vice President Joe Biden.
People at the rally were told to start meeting at 10:00 AM, and by 10, a long, 45-minute line had already wrapped around the Common. People were eager to get into the rally, and after what had seemed like forever waiting in line, and getting berated by the Sanders campaign workers to keep tidy, people were finally all let in.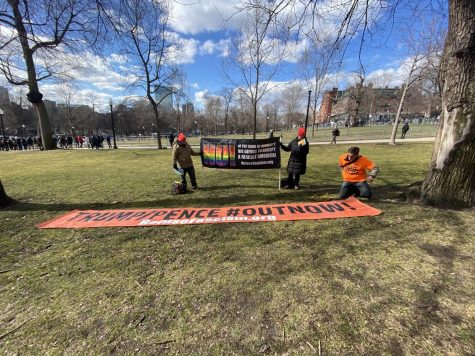 Passing the metal detectors added to the suspense on what was on the other side. People attending the rally had been reminded they were in Bernie land by the large amounts of socialist propaganda and the large amounts of Bernie signs being held amongst the crowd. Pins were being sold, signs were being given out, and pamphlets were being distributed, the suspense was palpable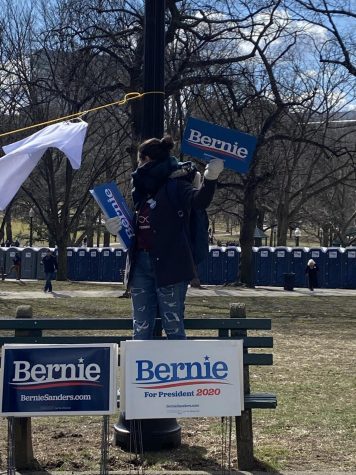 Many had attended this rally due to the ease of access within the city. "I have been meaning to get into actually supporting the campaign more, and I attend Tufts University, so the proximity was very nice," said Rob Pitkin, from Weston, Connecticut.
As well as ease of access, due to the rally being right in the heart of Boston, many came for the sole purpose to support who they believe is their viable candidate. "Bernie seems like he fits my beliefs the most, and I am a student," said Ryan Mcgilvray, from Kingston, Massachusetts. 
Right at the strike of 12:00 PM, the suspense amongst the crowd was finally ready to boil over. The 2020 Bernie Sanders field organizer had kicked off the rally, with the intent of building suspense. For the next 20 minutes, endorsers to the Bernie campaign pumped up the crowd such as Mike Connoly, member of the Massachusetts House of Representatives, the Director and Cofounder of the Sunrise Movement, Varshini Prakash, the Massachusetts Senate Co-chair, Paul Feeney, Peter Knowlton, president of the United Electrical, Radio, and Machine Workers of America Union, and representative Nika Elugardo.
After 20 minutes of endorsers talking, Bernie Sanders had finally made an appearance. "Woah, Boston, there's a lot of people here today," said Sanders, gazing left and right into the crowd of shoulder-to-shoulder crowds. As well as Sanders, more people had been standing in the crowd than what his fans thought also. "The line was way past out on the street and I was in line for 40 minutes, just to get into the rally," said Pitkin.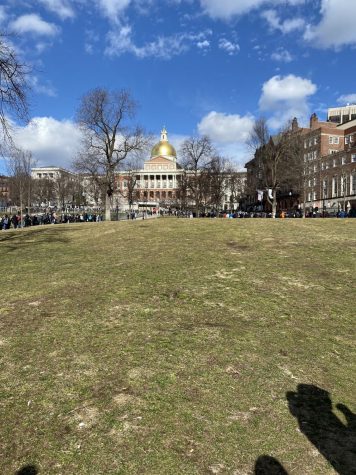 Once Sanders had started talking, everything that had left his mouth had gained support among the crowd, along with cheering and his signs being held in the air. Sanders plans for controversial issues had been brought up, and touched upon quickly, moving in an organized manner to keep audience attention. Topics touched upon were Sanders plans for healthcare, college, climate change, criminal justice system reforms, national rent control, fighting the NRA, and taxing the wealthy. 
"If we stand together and become involved in the political process, and if we change the political culture within America, and understand that men and woman have fought and died for democracy in America, we all have to become involved and think about the issues of the country together," said Sanders, formally wrapping up over a half hour of talking. This was not only a way to motivate the crowd, but a way to make his young supporters feel wanted, leaving his rally with a feeling like their voice was heard.
Leaving the rally and pushing through the crowd of thousands of people, it was apparent his rallies, such as the one on the Boston Common, had worked in order to keep his supporters' votes for November. Fans were all over Boston taking pictures with his signs, and people all over the city were wearing Bernie Sanders badges, as a way of commemorating this rally after it had ended. 
It was clear that those at this event had known that they were different, due to their support of Sanders, and they sure were not backing down. "There is no other candidate who is more consistent, and who cares about every man, woman, and child in the country," said Pitkin.