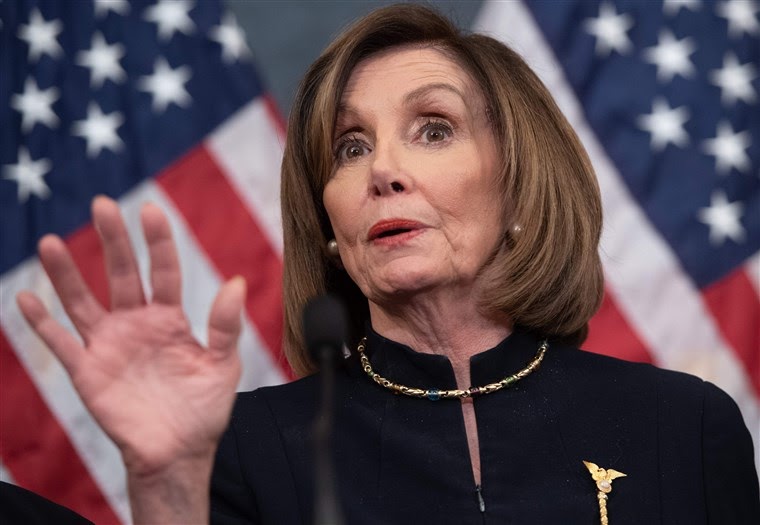 In courtesy of NBC News
"When history books are written about this tumultuous era, I want them to show that I was among those in the House who stood up to this lawlessness tyranny," said Nancy Pelosi, Speaker of the United States House of Representatives.
On Wednesday, February 5th, the democrats fell short of the two thirds majority to remove Trump from office with final results capping at 52-48 to acquit him of abuse of power, and 53-47 to clear Trump on his other charge of obstruction. 
A little over a month ago, on Wednesday, December 18, 2019, history was made. It was announced that Donald Trump was being charged with two different articles of impeachment. Article one, abuse of power, and article two, obstruction of congress. Impeachment has been a process that has been one of democrats top priorities to complete, and it certainly wasn't going to be forgotten.
All the way back on September 24th, 2019, a formal impeachment inquiry was launched in response to Trump, possibly trying to interfere with the 2020 election. Now, a few months later, on December 18, 2019, history was successfully made by the democratic party to impeach Donald Trump, making him the 3rd president in American history to be impeached.
Article one, which was a charge of abuse of power, states, "Trump was corruptly using the levers of government to solicit election assistance from Ukraine in the form of investigations to discredit his Democratic political rivals," as mentioned in the New York Times. This article was passed with a 230-197 count. 
Article two, which was obstruction of congress, states, "Trump was in the unprecedented, categorical and indiscriminate defiance of subpoenas" issued by the House according to NBC News. The reasoning for this article was to punish Trump for his actions of withholding documents and to not allow key administration officials to testify. This article was then passed with a 229-198 count. 
One month later, on January 30th, Senators now had a total of 16 hours to probe the White House Defense team. On Friday, January 31st, the impeachment trial was headed for a vote to determine whether the Senate is to hear from witnesses over allegations. It has already been reported by the Washington Post that "Senate appears ready to reject witnesses" in the title of their latest article covering impeachment. Later that night, the Senate won by a 51-49 majority to block witnesses. 
Many knew when the impeachment was first introduced to the public in early September, it was just another event setup by the democrats to get anything through the system to remove Trump. "This probably has been one of the biggest wastes of time in American history, it's not a proper removal of office, it's a witch hunt" said Brycen Cray, junior.
Many think blocking further witnesses, basically putting an end to the impeachment inquiry, was the right decision, for the Senate's sake. "I feel like the democrats plan was to just get a one up on Trump" said Leanord Dobson, junior.
After the impeachment inquiry had come to a final conclusion, many were not surprised by the end result. "I think the democrats were just mad they lost the election and wanted to get Trump out of office" said Dylan Karpenko, junior. 
Some students such as Riley Gagnon, junior, thought that the impeachment was going to be beneficial, "I believe impeachment and removal from office are a necessity for the benefit of the American people."
Shortly after the trial had finally concluded, word was spread by Trump on twitter stating he will be speaking Thursday morning about  "our Country's VICTORY on the Impeachment Hoax."