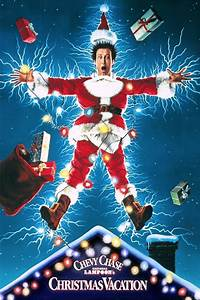 Amazon.com
Christmas movies are a strange breed. If you want to watch a movie with Chevy Chase, you got it. You want some creepy claymation figures to haunt your dreams? They have that too. Do you want movies with the exact same title and very similar plotline, there are hundreds of them. There's horror, comedy, and romantic, there is never a lack of options–whether they are good, bad or confusing– you can spend up to many hours binge-watching them throughout your holiday season.
Once Halloween is over then you know you it's the holiday season whether you like it or not. It just seems to be shoved in your face. And when the holiday season starts, the Christmas movie season starts. They're not all good, they are mostly bad actually but yet you still watch them every year. So isolate yourself from your loved ones, and grab any working device that will show you a little Christmas cheer with these movies.
","
National Lampoon's Christmas Vacation; it's rare for a series of threequel movie to be equally as good and even better than its two predecessors. A comedy starring Chevy Chase as Clark Griswold and Beverly D'Angelo as Ellen, Clark's wife, they invite over their family to have a "fun, old fashioned Griswold family Christmas," but it soon turns into a mishap-besieged family get together. Christmas Vacation is easily one of the more famous Christmas movies due to its hilarious scenarios of a dysfunctional family as they try to cram too much holiday cheer into one day.
 In the spirit of anything-can-go-wrong-will-go-wrong, Christmas Vacation is definitely the depiction of "It's Christmas and we're all in misery," as D'Angelo puts it in one of the many memorable quotes from the movie.
Elf; nothing better than a movie about a clownish orphan starring Will Ferrel, who is raised by Santa and his elves then moves to New York City to find his biological father. This movie is great for all ages, especially young children who will find Will Ferrel's character Buddy hilarious as he eats chewing gum off the New York subway and mixes M&Ms and chocolate syrup with his spaghetti. The way Will Ferrel portrays his character is incomparable to the others when he is excited to meet Santa and his interactions with his cynical dad are what gets to you. The effects and animations are a little bit corny, and Buddy's love interest Jovie, played by Zooey Deschanel, is a little bit unneeded for the plot and feels a little out of place due to her only purpose of being just the love interest.  
Love Actually; What's better than a cliché Christmas romance, well how about 8? Love Actually follows 8 very different couples in dealing with their love lives in very loosely interrelated tales all set during a month before Christmas. There are so many different types of love stories, not all romantic, like the story of Sarah(Laura Linney) and her coworker Karl(Rodrigo Santoro) who are attracted to each other and one day decide to get together but are interrupted by Sarah's mentally ill brother who decides to call Sarah to wish her a Merry Christmas. Sarah ends things with Karl and spends Christmas with her brother instead which is not something you would expect in romance movies, the love of a brother and sister. Some of the romance stories are sad or bittersweet like the story of a newlywed couple, Juliet (Keira Knightly) and Peter(Chiwetel Ejiofor) and their friend Mark(Andrew Lincoln) who is also the cameraman for their wedding. It is later revealed that Mark was in love with Juliet the whole time, and Juliet gives him a parting kiss. That story, just like many others of the movie is very cliché also gives a lot of drama and action a romance movie needs. The overall production of the movie is very unique as it follows many character's stories at once, which sometimes can be confusing as your sitting there wondering… who is that character? The movie is one of the more popular Christmas romance movies and one of the only good ones out there as most nowadays seem rushed or too cliché for the holiday season.
Die Hard; an 80's action-thriller movie starring Bruce Willis, a New York policemen who outwits German terrorists led by Hans Gruber(Alan Rickman) while trying to save his wife and the other hostages during a Christmas party at the Nakatomi Plaza in Los-Angeles. This movie isn't like any other action movie because this movie is based around Christmas time which-contrary to popular belief- makes it a Christmas movie.  If there is a definition of an action movie, this movie is it with all the stunts Willis pulls such as when he swings on a fire rope through a glass window or when he drops explosives down an elevator shaft all while trying to keep the terrorists off guard. On a technical level, there are some unnecessary parts to the script like when Willis talks to the policemen on the ground to keep his morale up. But then an unnecessary character is introduced, the chief of police(Paul Gleason), who doubts that Willis is telling the truth at all. The only point of his character is to be constantly wrong at everything and to provide irony to Willis's progress. Overall the movie has amazing special effects, great stunts and is the perfect action-thriller Christmas movie for the holiday season.
If I have to compare these movies, I would personally go for the comedy, Christmas Vacation as it's the type of movie you can watch every day of the 25 days leading up to Christmas, and you would never get bored. But if you don't have a sense of humor, any of the other Christmas movies are perfect for a pass-time activity that you can huddle up to the fire, drink some hot cocoa and not get up for the next 5 hours of your life.