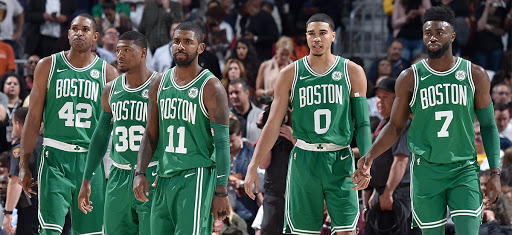 The Road to the 'Chip
A breakdown of the path the Celtics must take to become 2019 NBA Champions
With the regular season officially over, there is no escaping the fact that this year was not what many Celtics fans expected to see from their team. At the outset, it was almost universally understood that the best team in the league resided in Beantown and that we might witness some of the best basketball since the turn of the century. It is safe to say that that was not what came to pass, with the Celtics finishing with a measly 49-33 record, missing the 50 win mark for the first time since the Isaiah Thomas-led days of 2014, and landing at the 4th seed in the Eastern Conference.
It was a season riddled with injuries and needless controversy, seeing the reacclimation of former All -Star forward for the Utah Jazz, Gordon Hayward, mess with the rhythm many of the young guys had built up in the 2018 playoff run. It saw the explosion of rumors across the league as to the upcoming free agency decision that Kyrie Irving was going to make, despite his previous commitments to remain a member of the Celtics organization in the summer of 2018. Ideas began to circulate that Irving would take his talents to his home state of New York with the Knicks, or maybe the up-and-coming Brooklyn Nets, or even possibly reunite with his former teammate LeBron James in Los Angeles.
Despite all the drama, the playoffs are officially upon us, and Celtics look to put the regular season behind them and make the push to the NBA finals.
"It's gonna be tough. We are gonna have to beat some teams that are better than us, and we can't underestimate any of them," says Triton junior Michael Farago. "I think we'll see a whole new team in the playoffs and a whole new Hayward. He has a lot to prove after this season and I think he might even win Finals MVP."