Fill-A-Truck Fundraiser
A junior's hopes of helping out families affected by Hurricane Michael.
Hang on for a minute...we're trying to find some more stories you might like.
Hurricane Michael hit the Gulf Coast of Florida, Alabama, Georgia, Virginia, Maryland, and the Carolinas hard in mid-October 2018 as a Category Four storm.
According to cnn.com, between 13,000 and 434,000 families were without power in each state. Even now, at the end of October, many people are without homes or bare necessities that we may take for granted.
While news stations have begun to move on, the effects of the storm have greatly impacted one Triton student's family.
Junior Alexia Miller and her family decided to start a fundraiser for the families suffering from the aftermath of the hurricane. After their loved ones narrowly escaped the storm themselves, they realized that there were a lot of people who were still feeling the aftermath of the storm and need help.
They are calling it The Fill-A-Truck Fundraiser. Alexia Miller and her family have been contributing to events at Winnekenni Castle in Haverhill for families in Massachusetts for as long as she can remember and, while it's a lot of work, she loves the results. Now, Alexia Miller hopes that she can make a difference in the recovery of the suffering families.
"We are able to help some of the people that still have nothing," states Alexia Miller, "This may be something we are able to do for similar disasters around the country."
Alexia Miller works mainly with her mom, Tricia McNeil, and her sister, Haley Miller. Alexia Miller and Haley Miller's grandparents will also be contributing to the fundraiser, mainly by taking all of the donations from Massachusetts to Florida in the end. Alexia Miller and her mom run an Instagram account and their other forms of social media while Haley Miller takes care of making posters and donation box signs.
Social Media and Monetary Donation Sites:
Instagram: @fillatruckfundraising
Twitter: #[email protected]
Facebook: http://facebook.com/donate/306440656843130
Go-Fund-Me: http://gofundme.com/fillatruckfundraising
Email: [email protected]
They will have donation boxes at two locations in Salisbury: Salisbury Elementary School and Kadee's Tumbleweed in the Crossroads Plaza. They've also expanded the boxes as far as Winnekenni Castle in Haverhill, and at Triton High School and Middle School. The donations can include but are not limited to, clean clothes, tents, toys for children, and other everyday necessities such as medical kits and toiletries.
The family has faced a few trials since the beginning of the fundraiser. Very few people know of the fundraiser despite the social media pages and fliers given out at multiple times. Alexia Miller and McNeil handed out their fliers at the final Triton football home game of 2018 to help spread the word. Alexia Miller has also brought the fliers to school and handed nearly 100 out of 150 of them out to staff members and students alike.
"People think it's a great idea but it has been a struggle getting donations started," stated McNeil, "It seems like people are forgetting about the devastation caused by Hurricane Michael."
Haley Miller stated that there is little else to do before they bring the donations to the victims of the hurricane. She said she believes that with frequent updates and a few more fliers they could have a fairly successful fundraiser.
"I'm glad we all created this fundraiser together. The next step for us is really just to hope we get more donations from our community before we bring them down to those in need," said Haley Miller.
Despite the trials, Alexia Miller and her family are determined to do everything in their power to help those in need. They feel as though they can help make a difference in the lives of the people that fell victim to the storm, and that this is especially important since the holiday season is approaching soon.
"So many men, women, children, and elderly were affected and do not have the simple things of everyday life, nor do they have homes to celebrate the upcoming holidays with their families," stated McNeil, "All we want to do is help make their lives a little better by sharing things we may take for granted."
About the Contributor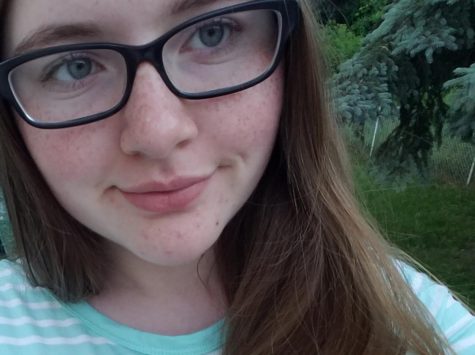 Glory Trelfa, Staff Writer
Hi, my name is Glory Trelfa. This year I am a Junior in high school. I am from Salisbury, Massachusetts and I live on Salisbury Beach. So far this year,...