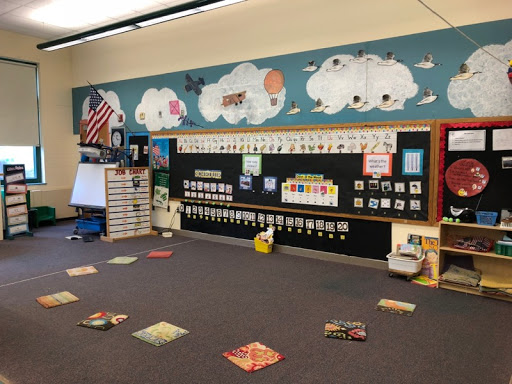 A Fresh Face in the Preschool
One walks into the classroom to hear an all-too-familiar melody meet their ears. "The Goodbye Song" a vague yet comforting memory all preschool graduates share, fills the class, as all the kids giggle in anticipation of the announcement that the day is officially over. One by one, Mrs. Mary Jo Lagana goes to each student and by-name tells them they have done great that day and are allowed to leave, sending the kids into a frenzy as they all rush to get to the doorway first. That's where Mrs. Paige Sullivan steps in.
"What I want them to learn from me is just to be caring and kind to each other," said Sullivan, a Byfield resident who has just begun her first year as a full-time instructional assistant for Mrs. Mary Jo Lagana's preschool classes at Newbury Elementary School. Sullivan has seen three of her own children go through the school, her youngest still enrolled. According to Sullivan,  teaching with preschoolers is one of the most rewarding experiences of her life.
"I love the little one's," she said. "You get to see everything through their eyes. You get to be a kid again and…everything is new and exciting." Sullivan is a classroom aide to Mrs. Lagana, in charge of both watching out and caring for certain students, but also stepping in when things turn unruly.
"My kids and I have had such a great experience. It's just such a supportive community. Great faculty and staff. I don't think I would change a thing," explained Sullivan, describing her experience with the district and specifically NES. She described the positive impact she believes the school has had on her kids and wanted to continue that with her students.
"It's always really great to have the support in your room, and the thing is, we support all the children in our classroom, so we all just kinda tag each other, and make it work." said Mrs. Lagana, a 35-year teacher, 25 of which have been spent at NES in the Preschool. "The thing I always say is, you're only as good as the people you work with, so it's definitely great to have her." Lagana offers a preschool experience that is open to children who have disabilities.  
Sullivan was brought in to help the children who have a harder time in class get by easier, and from the short time spent in their class, it was easy to see that it was a job she did not take lightly.
"She's very supportive in the classroom. She's kind, and always willing to learn new things. There's a lot of needs in the classroom and I couldn't do it all by myself," explains Lagana. She went on to talk about the community that she and Sullivan had come to establish, and her thankfulness for all the help she was providing.
Sullivan is committed to helping the Preschoolers that come through her class prepare for kindergarten and the vast schooling beyond. "I'm dedicated, caring, hardworking, love my job, and I love being here, in the classroom," said Sullivan upon being asked what she wanted the Triton School District to learn about her.
"I think she'll be a good teacher," says Triton High School junior and son to Sullivan, Jack, "She's already a great mom."