Some People Say it's a Tool; Others Believe it's a Weapon
An in-depth look into Facebook's advertising capabilities and consequences
Hang on for a minute...we're trying to find some more stories you might like.
What began as a way for college students to connect, has grown into one of the world's largest social networks. Facebook has become one of the best marketing resources. While this is great for companies looking to sell products, it also allows for an atmosphere that helps concentrate targeted informational attacks on people with opposing views in politics, ultimately polarizing our nation even more.
The Triton Voice has done an in-depth investigation on Facebook's advertising software to explain to the public how easily they could be targeted. Here are some examples:
    1.  Let's say that the Cleveland Browns were actually in the Super Bowl, and you were selling Brown apparel. Here is a model of the advertising capabilities of Facebook:
Targeted Audience Details: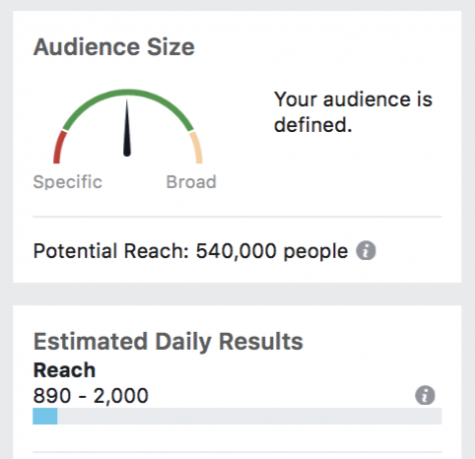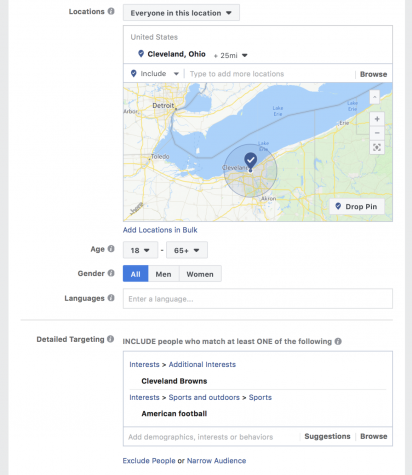 Lives within 25 miles of Cleveland, Ohio

Ages 18+

All Genders

Has Interest in "

Cleveland Browns

"

Has Interest in "

American Football

"
Potential Reach = 540,000 people
    2.  Now let's say that you are opening up a new restaurant on the North End in Boston called Pacari, and you want to appeal more towards college students. Here is another model of the advertising capabilities of Facebook:
Targeted Audience Details: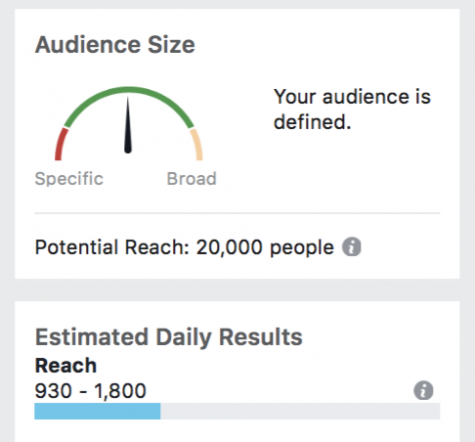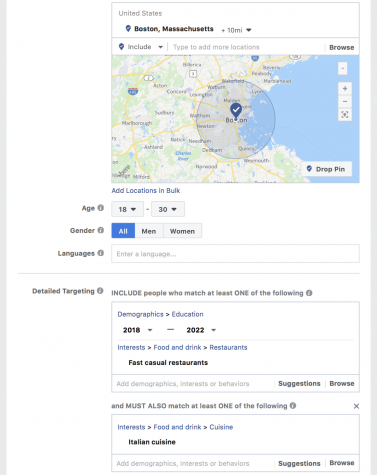 Everyone within 10 miles of Boston, MA

Ages 18 – 30

All Genders

Currently attending college

Has Interest in "

Fast Casual Restaurants

"

Also has Interest in "

Italian Cuisine

"
Potential Reach = 20,000 people
Unfortunately, it is not just restaurants and clothing stores that are seeking screen time on your device. It is also common among political interest groups to try and sway the opinions of voters with biased information. Here is a perfectly practical example:
    3.  The National Petroleum Association (NPA), a political interest group that is in favor of electing Senator Pierce, is looking to put out a campaign ad attacking Pierce's running mate, Larry Smith. The video claims that Smith is looking to decrease funding for the poor, increase military deployments overseas, and raise the federal budget for protecting endangered animals.
Targeted Audience Details: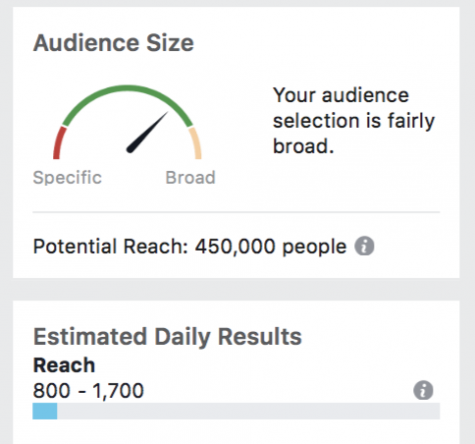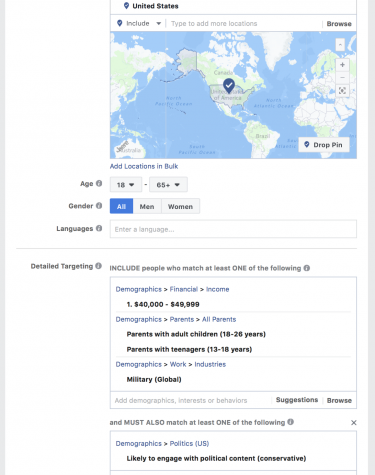 Everyone in the United States

Ages 18+

All Genders

Whose income is from $40,000 – $49,999

Parents of children ages 13 – 26 years old

People who worked in or for the US Military

Must also be "

Likely to engage with political content (conservative)

"

Excluding people who "

Donate money to environmental or wildlife causes

"
Potential Reach = 450,000 people
Obviously none of this is true nor did these campaigns actually run, however, Facebook allows any group like this to precisely target unknowing individuals simply based off of data gathered on them. From there, Facebook's algorithms can determine: political stance, income, relationship status, education level and much more.
The Triton Voice was able to create a fake Facebook account, anonymous user page, and a series of targeted ads in a matter of minutes!
As this technology keeps getting better, and user data becomes much more accurate and easier to obtain, groups that are looking to take advantage of people will become more prevalent, unless Facebook attempts to stop them. My advice for everyone using platforms like Facebook, Instagram, Twitter, SnapChat and others, is to be aware of the company/group sponsoring the advertisement, and start to ask yourself, "Why am I seeing this Advertisement?"
About the Writer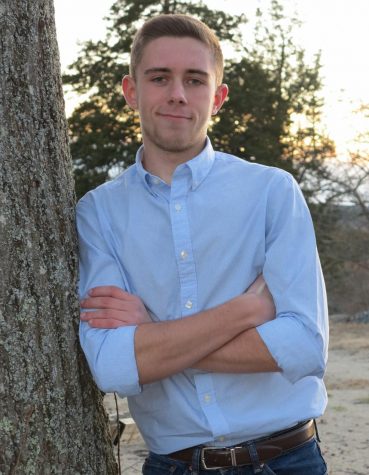 Steve Baiardi, Staff Writer
Steve Baiardi is a senior staff writer at Triton high school. This is his first year writing for the Triton Voice. He likes to cover the senior class,...