Interesting Jobs
Working at a golf course, snow plowing and being a lifeguard are examples of the unique jobs the our students here at Triton have and love. Jobs are hiring everywhere, and although not all Triton students have a traditional job in retail or food service, trying new jobs can inspire a future career path or interest that your peers haven't tried. 
Working is the most efficient way for high school students to get money. These are the first years that a lot of teens are responsible for a lot of their own expenses like going out to eat, buying gas and purchasing those new pair of shoes you might want. Although food service and retail are common jobs that are easy to get and maintain, some of our Triton students are looking for something a little more interesting to spend their time doing. 
Triton senior Dylan Merrill was previously employed at the Rusty Can in Rowley. He then chose to leave his food service job and start snow plowing.  
"I plow snow for the state of Massachusetts," Merrill says. "I like that it's a different schedule and you don't know when you're going to get called in. It's not a traditional high school job and I have fun doing it." 
Merrill sometimes has to work 24 hour shifts, but he says the pay is worth it. He makes $16 an hour, but says it can differ depending on if the place of hire gets paid by the state.  Plowing takes some practice but he enjoys the surreal feeling during the snowy nights where he can listen to his favorite songs and bring along some energy drinks of course. Recently he obtained his Commercial Drivers License which is a license that requires a higher level of knowledge specifically for larger trucks. Merrill is licensed and ready to plow during our next storm. 
Triton senior Dylan Wilkinson is a lifeguard in Newbury and loves his job. He got CPR certified and completed his lifeguard courses required by the state to be able to have this job.
Wilkinson says "I love my job, I get to spend my summers outside."
He says he gets paid $15 an hour and then gets tips on top of the hourly wage. This makes him plenty of money to take home each shift. He also likes that at his pool its mostly members, so he gets to know the people well. His shifts are either 8-12 doing swim lessons or 12-7 for regular swim. 
Another Triton senior Kyle Bouley is trying out working at a golf course this summer. He will be running the driving range which he's excited to start. 
Bouley says "I'll be driving the golf cart around and picking up balls then cleaning them and bringing them back to set them up again."
Although is not sure of his exact pay yet, he knows he will get an hourly rate and then tips added on. He is already a fan of golf, which he feels will make this job more enjoyable. He feels like high school jobs should be enjoyable and fairly manageable. He doesn't need any prior training on the first day of work. 
Leave a Comment
About the Writer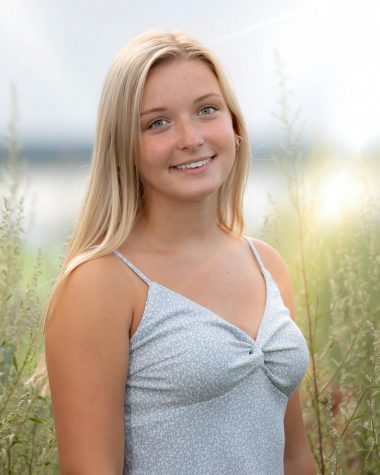 Olivia Bateman, Staff Writer
Hi! My name is Olivia Bateman and I'm a senior at Triton High School. I enjoy playing soccer and also hanging out with my friends and family. I work at...